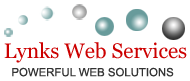 Services
Lynks Web Services is a full-service on-line marketing and web design firm which blends creativity, knowledge, and experience together in a wide range of web and print projects.
We bring together the creative spirit of a small firm with a high level of customer service.
Lynks Web Services provides the following website services to help your business grow and achieve the results you want.
Site maintenance
E-commerce
Domain name registration
Graphic design & Branding - business cards, brochures, flyers, posters...

Call us now at 250-868-2287 to discuss how we can bring together your project.
D E S I G N • C R E A T E • C A P T I V A T E