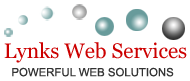 Branding & Identity
We create a customized and unified look to your business. We create logos for your website, letterhead, brochures and business cards that are relevant to your business and memorable to your customers. We can develop a simple tagline that clarifies your services and communicates how your business is different.
Your logo and identity are part of your brand. What exactly is brand and why is it important? Lynks Web Services knows that when developed fully, branding helps the consumer identify your business. Your brand also inspires an emotional connection and confers status on your business, which makes your clients less sensitive to your pricing and more likely to refer you to others.
We put together aa unified look to all your promotional materials so that your brand is recognized by clients and potential clients.

D E S I G N • C R E A T E • C A P T I V A T E
Contact us now at 250-868-2287 for more information on these services.